Chiropractic Care
Why Do I Need Chiropractic Care?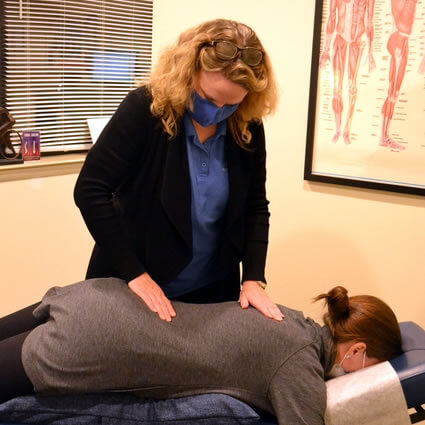 Patients often wonder how chiropractic care works, and if it can help them. At Community Chiropractic Center, we like to explain that the spine is a lot like a set of tires. Just like tires, the spine wears out over time. If your tires are in good alignment, they last longer. If one tire is out of alignment, the tires wear out quicker, lose tread and can even have a blowout.
If your spine is out of alignment, it will also wear out quicker. For most adults, the spine has been misaligned for a long period of time, which results in pain and conditions like arthritis or disc problems. Our goal is to find those misalignments and areas of poor movement and correct them through precisely targeted chiropractic adjustments so your body can heal and work better, longer.
In addition to your adjustment, we will make home care and lifestyle recommendations and may employ additional healing modalities such as electrical muscle stimulation and traction.
Our Techniques
Our chiropractors use a wide variety of adjusting techniques to allow us to tailor care to each patient's specific needs and comfort level. In addition, we utilize special techniques and accommodations for our prenatal and pediatric patients. Our adjusting techniques include:
Activator Methods® instrument-assisted adjusting
ArthroStim instrument-assisted adjusting
Diversified manual adjusting
Flexion distraction tables
Thompson drop tables
Webster technique
Some patients prefer adjustments that don't produce any cracking or popping sounds, while others like to hear that pop when they're adjusted. With over twenty-five years of experience and several adjusting techniques to choose from, we can adjust you in whatever way you prefer.
Offering Outstanding Results
We get great results for many conditions, and our goal is to help you keep a healthy spine for life so you can be as active as you want to be. Some common conditions we help with are:
Get the Care You Need
Contact us today to learn how chiropractic can help you, or to schedule an appointment.
---