Low Back Pain Treatment at Community Chiropractic Center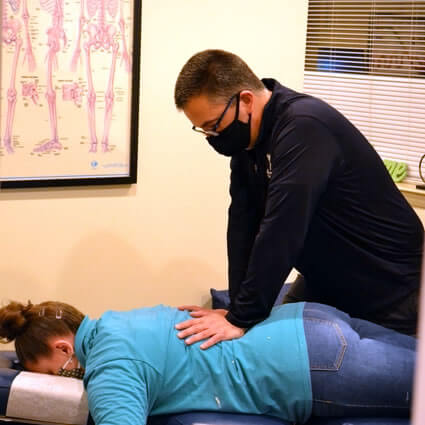 For most people, lower back pain will be a factor in their life at some point. Whether it's a result of poor posture, a sports injury, or simply sleeping on it funny, chances are your lower back will let you know when things aren't right! This kind of pain afflicts more than 60% of people in industrialized countries. What's one of the best things you can do? Visit us for relief!
Knowing how to recognize a problem is critical for people looking into chiropractic care. While some instances of pain can be treated with rest, others require more proactive approaches.
Our experienced team will perform any chiropractic adjustments you need to get your body back into proper alignment!
Experienced Lower Back Pain Chiropractors
Most people have become accustomed to the idea of using invasive or medicinal avenues for relief. However, as more patients are becoming more mindful of the opioids used in various prescription drug options, they look for more non-invasive ways of treating their pain.
Deciding to visit us can mean the difference between immediate pain relief and suffering through more back pain than you need. This type of pain can potentially be the root cause of other issues that plague your spine, neck, and head. Taking the time to address the root of the problems means that you can figure out the leading causes of your pain and see immediate and lasting results. Chiropractic adjustments applied at the right spots can help alleviate pain and have you feeling better in no time!
Serving patients throughout the community is one of your core principles. Our team wants to provide the help and care people need to feel the relief they have so desperately been seeking.
Community Chiropractic Center
can help patients of all types find the low back pain relief they deserve!
How We Can Provide Relief
Chiropractic care consists of a series of spinal adjustments that aim to treat the source of your back pain. A trained chiropractor can find the underlying cause of your pain and determine which areas to target. Utilizing manual spinal manipulation, we can help address the root cause of your lower back pain!
Chiropractic care can benefit people of all ages that suffer from a variety of conditions, providing people with a chance to handle pain that has plagued them for years. Our team of experienced chiropractors can provide you with the low back pain relief that you have been longing for.
Book Today
Ready to get help today? We're here to learn more about your goals and get you on a path to healing. Book your visit with us to get started.
CONTACT US
---
Low Back Pain Treatment Blue Bell PA | (866) 381-0320