Neck Pain Treatment at Community Chiropractic Center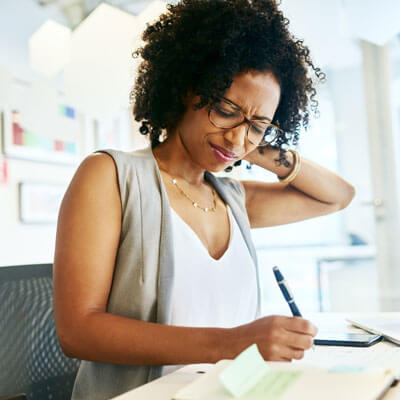 Have you ever woken from a nap and then felt a consistent pain in your neck that wouldn't go away? Do you suffer from chronic pain and thought there wasn't a way to fix it without medication? People across the world will feel some form of neck pain in their life, and while sometimes rest will help with the pain, there are times where it simply isn't enough.
The causes are varied and can happen at any time. However, you can find the relief you need with the help of Community Chiropractic Center!
Knowing when to see your chiropractor can be a difficult decision to make. You may want to see if the pain will resolve itself with rest; however, if the pain persists for more than a few days, then a visit with your chiropractor is in your best interest.
Identifying Chronic Neck Pain
Identifying the types of neck pain that require a visit to your chiropractor instead of treating it with rest can be a matter of knowing the underlying causes. If it is merely a result of sleeping at the wrong angle, then rest will be the way to go. However, for chronic problems, relief does not come so easily.
For most sufferers, the leading causes stem from poor posture, herniated disks, or a chronic condition that has been left untreated. Coming in for a consultation can lead you to finally experience the neck pain relief you have craved since you began feeling the pain.
Relief Without Pain Medication
Some people out there rely solely on prescriptions and what they could get at the pharmacy to alleviate their pain. Instead of turning to over-the-counter pain medication to handle the chronic neck pain, relief could be a sustained chiropractic treatment plan away! With a regular treatment plan, our chiropractors can help identify the underlying causes of your neck pain and figure out how you can experience sustainable neck pain relief.
Our sense of community and helping our patients feel better are at the core of our practice. Finding the best chiropractors for your pain should not be that difficult for those seeking relief. No matter where you live, you should not have to suffer from chronic problems. With the right team of chiropractors on your side, you can begin to see results and sustained improvement in no time!
Get Out of Pain. Call Today
Contact us today to schedule an appointment with our staff! We can help you treat the core of your problem and feel the relief that you deserve.
---
Neck Pain Treatment Blue Bell PA | (866) 381-0320