Sports Chiropractic at Community Chiropractic Center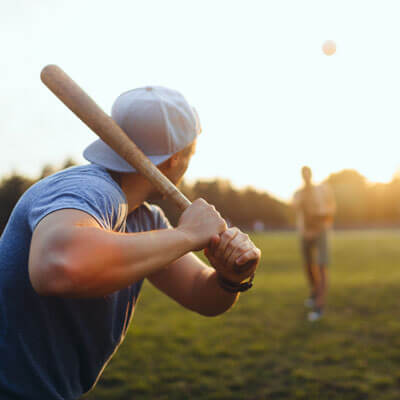 Whether it's your kids injuring themselves in after school sports or feeling something funny while playing in your work softball league, sports injuries can happen when you least expect it.
Recovering and getting back onto the field becomes your number one priority. But finding the right path towards recovery can be a long and winding road. That's where sports wellness chiropractic care can help!
Finding the right treatment and therapy for sports injuries can make the difference between coming back in a few weeks versus a few months. Professional leagues such as the MLB, NFL, NBA, and NHL all utilize sports wellness chiropractic care in some form for their athletes. Knowing that they trust chiropractic care to keep their athletes healthy and ready to play at the highest level, you can take comfort in knowing you're getting the same treatment to you back in the game!
No matter how trivial or severe the injury, our chiropractors can help. Our team has the training and experience to identify and treat what is ailing you! Whether you suffer from sciatica, a herniated disk, headaches, or neck pain, our team can provide the treatment for your sports injuries that you need!
High-Quality Sports Injury Therapy
Sports injuries can be tricky recoveries. If you rush back too quickly, you can end up aggravating the existing injury and make it worse. It's a delicate balance between knowing you're ready to go back out and jumping ahead of schedule.
As you embark on the road back from injury, chiropractic care can prove beneficial. The right injury therapy program will aid in your recovery. Consulting with your doctor and chiropractor will help target the right areas that need targeted therapy.
Identifying the underlying causes of any injury will help in your long-term recovery and ensure that you recover properly from the injury at hand. In the case of youth sports injuries, therapy and treatment of any potential underlying cause can help prevent any setbacks as they progress further along in their overall development.
While kids can bounce back from injuries quicker than most adults, they can still benefit from regular pediatric chiropractic care. Taking the time to ensure that the injury is fully healed and the athlete has enough time to recover fully will benefit the kid undergoing treatment in the future. If the injury is one that can be potentially recurring if not treated right away, the injury could come back again later on in their lives.
NEW PATIENTS
Book Your Appointment today
Do you need to schedule an appointment with a chiropractor to deal with your sports-related injuries? If so, contact the Community Chiropractic Center team to schedule an appointment and begin your recovery today!
---
Sports Chiropractic Blue Bell PA | (866) 381-0320