Migraine Treatment at Community Chiropractic Center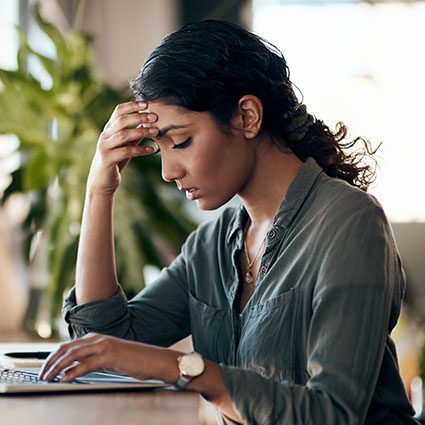 Most people will suffer from one form of headache or another throughout their life. While one singular cause for headaches has yet to be identified, science has determined that most initially stem from issues throughout our neck and back. Finding a chiropractor for your migraines can help you feel the relief you have been missing!
A skilled and experienced chiropractor specializing in head pain relief can help you identify which type of headache you are dealing with and where your treatment can start. Our chiropractors can find the source for your migraines at Community Chiropractic Center and help you begin to feel a sense of relief.
Most headaches are caused by underlying and secondary issues that chiropractors specializing in migraines are trained to find. For example, in cases of cervicogenic headaches, the pain starts in your neck and radiates upwards through your head.
Finding the pain relief for this type of issue may seem like taking a pain reliever and hoping for the best. However, regular chiropractic visits can help!
Finding the right chiropractor for you begins with deciding that the time has come for you to take a more proactive approach to your pain relief. For cervicogenic headaches that start in the neck, a treatment plan centered around spinal manipulations and gentle pressure applied to the trouble spots may be beneficial, and you can begin to see improvements quickly.
For the best results, chiropractors can provide a necessary avenue to get a non-opioid option to deal with the pain. For people dealing with recurring issues, finding reliable pain relief methods becomes of the utmost importance.
Tension headaches are one of the most common types of head pain that affect people in their lifetimes. The direct cause of tension headaches remains unclear; however, it has been surmised that a variety of physical and emotional stressors can contribute.
Regular chiropractic has proven to be beneficial for relief from this type of pain. It appears that the most common trigger for tension headaches stem from subluxations in the upper back and neck muscles. Targeted manual manipulations from a trained chiropractor can provide relief from tension headaches that patients desperately need.
Our chiropractors can help you deal with migraines of all types and severity.
Call Us Today
Finding the right chiropractor for you to help deal with your health is an important decision for patients. By choosing Community Chiropractic Center for your sessions, you will receive the highest level of care from a team of expertly-trained chiropractors, and will begin to see improvements quickly! Contact our team for more information and to schedule your first appointment today!
---
Migraine Treatment Blue Bell PA | (866) 381-0320