Pregnancy Chiropractic at Community Chiropractic Center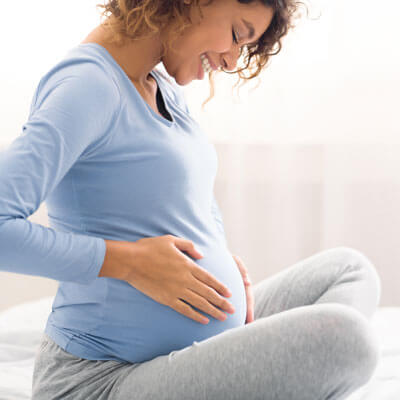 The miracle of childbirth also brings with it a slew of changes to a woman's body that can create new aches and pains. You're carrying a new human inside of you for nine months, and your body changes to accommodate this growing person.
While a common occurrence, headaches during pregnancy should not be the defining memory of your experience. As this happens, a maternity chiropractor can help deal with these sudden aches, and our team of expertly-trained chiropractors can help!
Prenatal chiropractors can see women throughout the various stages of pregnancy. There aren't any restrictions on when you can begin your prenatal chiropractic care unless you have a pre-existing condition that would prevent you from receiving such treatments.
You might think that pregnancy and chiropractors do not mix, but let us put your mind at ease. Regular chiropractic care during pregnancy is not only safe but also recommended. With a combination of techniques and training, our team of experienced chiropractors can help you with any back pain you may feel during your pregnancy!
Back pain during pregnancy is a shared experience for expectant mothers everywhere. Your body will shift, your center of gravity changes, all in service of bringing a new life into the world. However, you don't have to suffer from back pain during your pregnancy!
Keeping expectant mothers comfortable throughout their pregnancy requires prenatal chiropractic care. Regular visits to your maternity chiropractor can help treat conditions such as lower back pain, pregnancy sciatica, and sometimes headaches during pregnancy.
Our team has been trained in using the Webster Technique to help our pregnant patients. This particular technique is designed to help facilitate labor and ultimately delivery while creating more room in the pelvic area. Finding a maternity chiropractor trained in the Webster Technique can help make the later stages of your pregnancy go more smoothly.
Chiropractic care shouldn't stop as soon as the baby is born. Postpartum chiropractors can be just as beneficial to mothers as prenatal care, as your body will take some time to readjust to life after carrying your baby.
With the help of trained postpartum chiropractors, you can handle the aches and pains that come with life immediately after childbirth. Our team can perform gentle chiropractic adjustments on your child to deal with conditions such as colic, reflux, and trouble breastfeeding.
FAQs
Why Should I Try Chiropractic During My Pregnancy?
Chiropractic is a safe, non-invasive option of pain relief for expectant mothers. Studies have shown that chiropractic is perfectly safe during pregnancy. Chiropractors are specially trained to handle pregnant patients, and you do not need a doctor's referral. Chiropractors use the technique of gentle adjustments to help realign the spine and hips. This realignment increases flexibility and aligns the hips to encourage proper fetal positioning. Chiropractic has also been known to reduce nausea and reduce the risk of cesarean delivery during labor.
Drs. Mark and Kristin Legnola take great pride in helping expectant mothers enjoy their pregnancy to the fullest. We offer a variety of tools and techniques to address many different aches and pains while still allowing you to feel safe during your adjustment. Through gentle chiropractic care, we can help treat many common pregnancy issues including back pain, carpal tunnel, foot pain, low back/gluteus pain, headaches, hip pain, poor balance, and sciatica.
What Should I Expect at my First Visit?
The comfort and safety of you and your baby are our utmost concern. To ensure we are able to safely treat and address every issue, we start with a comprehensive exam.
After the exam, we use our specialized training and a customized treatment plan to help you feel better than when you arrived at our office! We take special care to accommodate discomfort due to c-sections and engorged breasts. We also have many options to accommodate women toward the end of their pregnancy.
Do You Accept Health Insurance?
Yes! Both of our doctors are in-network providers with many major health insurance plans. It is likely that your insurance covers some portion of your treatment, making care more affordable than you might have originally thought!
Don't Live in Pain. Call Today
Back pain during pregnancy doesn't have to be your new normal. With the maternity chiropractors' help at the Community Chiropractic Center, our pregnancy and prenatal chiropractors can help you navigate the aches and pains during pregnancy and postpartum while making your experience as comfortable as possible! Contact our team to schedule an appointment today!
---
Pregnancy Chiropractic Blue Bell PA | (866) 381-0320