New Patients at Community Chiropractic Center
Getting started with care at Community Chiropractic Center is easy—we even provide our new patient paperwork online so you can complete it at your convenience at home. If you'd prefer to do the paperwork at our office, that's fine, too and we just ask that you come fifteen minutes early to allow time to do that.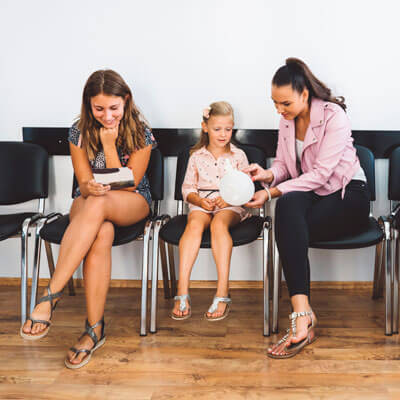 Your First Visit
We'll be checking your posture and range of motion, so it's helpful if you can wear comfortable clothing. As you enter our welcoming office, our friendly front office staff will greet you and take copies of your insurance card. Most of our office is an open floor plan, but we have private rooms for patients to share their health history and have their exams.
When you meet with your chiropractor, they will discuss your health history in detail, in addition to what's currently bothering you. We want to understand how your condition is impacting your daily life—whether it's preventing you from playing with your kids or grandkids, keeping you from participating in your favorite sport or activity, or affecting your work life. Knowing your goals is important for us to design a care plan to meet your objectives.
Your chiropractor will then conduct a thorough orthopedic and chiropractic exam. If necessary, we will also take X-rays. This visit takes about one hour, and the cost is $49.
Your Second Visit
At your second visit, your chiropractor will go over the report of findings and review any X-rays with you. They will also explain our recommendations for care, including any home care suggestions. Our staff will discuss the fees as well as your specific insurance coverage before we begin any treatment, so there are never any surprises. Then you'll receive your first adjustment, as well as any additional therapies your doctor recommends.
Take the First Step
Take the first step towards better spinal health. Contact us today to schedule an appointment. We accept all major credit cards, and you can use your HSA.
CONTACT US
---
New Patients at Community Chiropractic Center | (866) 381-0320